Products > Cooling Tower Spare Parts > Water Cooling Tower Hot Water Distribution System >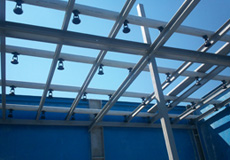 We design water distribution system for the towers at each capacity and bigness. The below systems are applied in accordance with tower bigness, cooling capacity, water quality and usage place conditions:
Capacity of the cooling tower is directly related with hot water distribution system. The main issue to be taken into consideration when selecting hot water distribution system is the highness of the pumping. Piping highness at tower application is constituted from the total pressure that is required for the distribution of the statistical highness (hot water entry highness) and its being homogenously distribution over the filling system. Pumping highness may change in accordance with tower configuration.