Products > Cooling Tower Spare Parts > Water Cooling Tower Cladding, Wind Partition, Louver >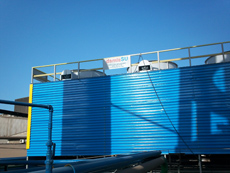 Surface of cooling tower is coated with CTP sheets. Cooling tower surfaces coated with CTP sheet that is coated with aesthetic and long termed gel*coat that provides resistant whose partition and wind partition provides resistance against corrosion, that does not easily ageing and deformed. CTP sheets can be dismantled for maintenance and then installed again. Their structural resistance is high against impacts and breaks.
Also they are resistant against high wind speeds and vibrations. In case of any damage, they can be easily repaired locally.